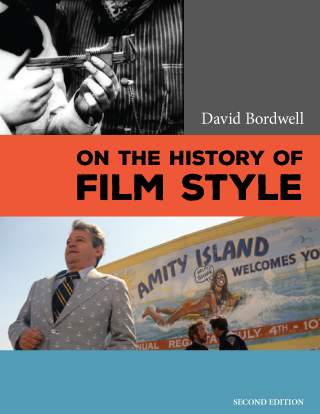 On the History of Film Style
2nd edition
by David Bordwell
353-page PDF file.
For background on On the History of Film Style, see this blog entry, and read below on this page.
The study of cinematic style has profoundly shaped our attitude toward movies. Style assigns films to a tradition, distinguishes a classic, and signals the arrival of a pathbreaking innovation. David Bordwell now shows how film scholars have attempted to explain stylistic continuity and change across the history of cinema.
Bordwell scrutinizes the theories of style launched by André Bazin, Noël Burch, and other film historians. In the process he celebrates a century of cinema, integrating discussions of film classics such as The Birth of a Nation and Citizen Kane with analyses of more current box-office successes such as Jaws and The Hunt for Red October. Examining the contributions of both noted and neglected directors, he considers the earliest filmmaking, the accomplishments of the silent era, the development of Hollywood, and the strides taken by European and Asian cinema in recent years.
On the History of Film Style proposes that stylistic developments often arise from filmmakers' serch for engaging and efficient solutions to production problems. Bordwell traces this activity across history through a detailed discussion of cinematic staging. Illustrated with more than 400 frame enlargements, this wide-ranging study provides a new lens for viewing cinema.
"Art historians might learn a lot from reading David Bordwell and listening to his version of how another historical discipline of visual imagery reconciles questions of style with both history and theory."
Larry Silver, College Art Association Reviews (1 October 1998)
"Bordwell is always sharp and often funny… The remainder of the book, its last 114 pages, offers a brilliant account of the history of staging in depth, taking us from Meliès and Porter through Sjöström's Ingeborg Holm and Stroheim's Greed to Preminger's Fallen Angel, Cukor's A Star Is Born and Spielberg's Jaws."
Michael Wood, "Cheerfully Chopping Up the World," London Review of Books (2 July 1998)
"This is a very good book. Anyone seriously interested in Film Studies should read it." John Belton, Film Quarterly 52, 4 (Summer 1999), 55–57.
Table of Contents
Preface
Chapter 1 — The Way Movies Look: The Significance of Stylistic History
Chapter 2 — Defending and Defining the Seventh Art: The Standard Version of Stylistic History
A Developing Repertoire: The Basic Story
Film Culture and the Basic Story
The Standard Version: Central Assumptions
Coming to Terms with Sound
Bardeche, Brasillach, and the Standard Version
Chapter 3 — Against the Seventh Art: Andre Bazin and the Dialectical Program
A New Avant-Garde
The Evolution of Film Language
Toward an Impure Cinema
From Stylistic History to Thematic Criticism
Chapter 4 — The Return of Modernism: Noel Burch and the Oppositional Program
Radicalizing Form
The Institutional Mode and Its Others
Living Shadows and Distant Observers
Chapter 5 — Prospects for Progress: Recent Research Programs
Piecemeal History
Culture, Vision, and the Perpetually New
Problems and Solutions
Chapter 6 — Exceptionally Exact Perceptions: On Staging in Depth
Ideology and Depth
Making the Image Intelligible
Dumb Giants
Depth, Découpage, and Camera Movement
Redefining Mise en Scène
Expanding the Image and Compressing Depth
Eclecticism and Archaism
Afterword
Notes
Index